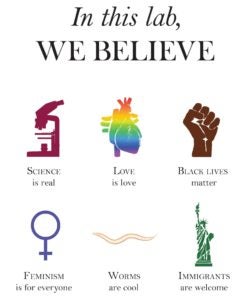 Our lab studies processes involved in the positioning of nuclei and other organelles to specific locations within a cell. We are using the nematode Caenorhabditis elegans as a model organism. We use genetic, biochemical, cellular, and molecular approaches to study this basic problem in cell biology and human disease.
For a lay-person description of our studies see "Nuclei don't use Google Maps."
We are located in the Department of Molecular and Cellular Biology at the University of California, Davis. The city of Davis is a small college town in the central valley of California, an hour from the San Francisco Bay area and two hours form Lake Tahoe. We're only 15 minutes from Sacramento and the major airport there, yet the city is physically separated from neighboring towns by 10 miles of farmland in any direction.
We have positions for postdoctoral fellows and graduate students from two programs: Integrated Genetics and Genomics, Biochemistry, Molecular, Cellular and Developmental Biology (BMCDB). Please contact Dan Starr if you are interested.
Please see the description of our research, and explore our work by checking out the publications page of this website.
Thanks for visiting!